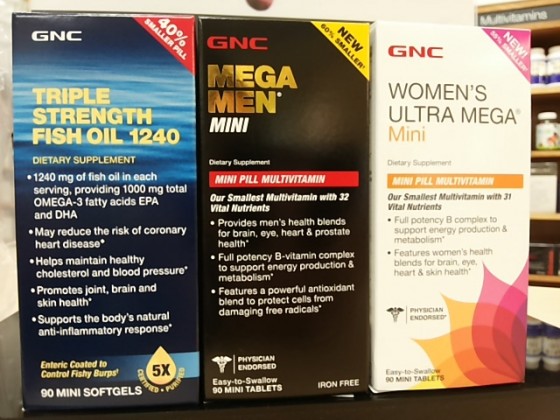 GNC launched smaller pill supplements of fish oil and multivitamins, which are more likely to be accepted by Asian customers who sometimes complain the American vitamin pills are too big to swallow.
GNC Mega Men Mini offers 60% smaller pills than GNC's regular men's multivitamin does. Dr. Frank J. Costa, an international acclaimed urological surgeon and member of GNC Medical Advisory Board, said this product "conveniently and efficiently delivers at least 100% daily value of 19 vitamins and minerals in just two mini pills. This complete multivitamin formula provides all the nutritional support you need to live well."
The pill of GNC Women's Ultra Mega Mini is 55% smaller than that of GNC's regular women's multivitamin. GNC said that this product is a premium multivitamin with important nutrients for overall wellness and a woman's special health needs in just two tiny, easy-to-swallow tablets.
The smaller pill fish oil product is Triple Strength Fish Oil 1240. Its pills are 40% smaller. Two enteric coated softgel capsules feature a total of 1000 mg of omega-3 fatty acids – 714 mg of EPA (Eicosapentaenoic Acid) and 288 mg of DHA (Docosahexaenoic Acid).
A landmark study involving over 11,000 participants has confirmed the major benefits of fish oil on cardiovascular health. Individually, EPA is important for circulatory system health, and DHA provides support for health cholesterol levels. In addition, fish oil also takes care of joint and skin health and supports the body's natural anti-inflammatory response.
GNC also emphasized that its Triple Strength Fish Oil 1240 has been purified and manufactured for freshness. Five separate purification processes are used until each batch of fish oil in the product is found to be free of detectable levels of mercury, cadmium, lead and PCBs. The best quality ingredients are derived from wild, deep ocean fish.